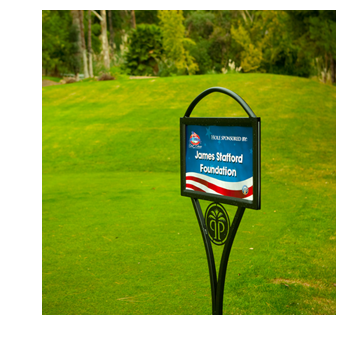 1)
Hole in One Designs manufactures powder-coated metal tee frames for permanent year-round display on a golf course. Each tee frame can display tee signage back to back. Signage measures 11" high x 17" wide. Tee frames have drain holes to inhibit rust damage from sprinklers and rain. Do not stack tee frames against one another to prevent paint chipping and other damage.
2)
Select your tee frame color from our standard palette, or choose another color
(
see the RAL color chart
) at an additional, nominal cost.
3)
Position tee frames for maximum visual impact on the golf course. Give your message, or that of your clients, elevated positioning that golfers and spectators will notice and remember.
4)
Put your weight on the tee frame's reinforced stabilizer to drive its 8" stake all the way into the ground.
5)
Permanent tee signage can be displayed in each tee frame, back to back. Permanent signage is printed on styrene-based, rigid paper stock that can withstand the elements. Permanent tee signage can promote the golf course, pro shop, or other attractions and can remain posted in the tee frame.
6)
Tournament tee signage is printed on less rigid paper stock, as it only has to remain in place for the day of the event. Tournament signage can be inserted in front of a permanent sign or back to back with a permanent sign. Tournament signage should be placed in tee frames the morning of the event to prevent sprinkler damage and discarded when the event is over.
Let Hole in One Designs produce your permanent tee signage and/or your tournament signage.